This stunning handmade sterling silver ring is a tribute to the iconic Bonnie Parker of Bonnie and Clyde fame. The intricate design features a delicate filigree pattern, evoking the elegance and femininity of the famous outlaw. At the center of the ring sits a sparkling gemstone, representing Bonnie's sparkling personality and bold spirit. Handcrafted with care and attention to detail, this one-of-a-kind ring is the perfect accessory for anyone with a rebellious streak and a love for history. Wear it as a reminder of Bonnie's fearlessness and charm, and let it inspire you to embrace your own unique spirit.
SIZE GUIDE
Regular price
$0.00
Sale price
$185.00
Unit price
per
Couldn't load pickup availability
Availability:
100 in stock
Ring Size
Our sizes are in US ring sizing.
Choose from the sheet below your correct ring size. (If you are between sizes, always size down)
If you don`t know your size:
Cut a thin strip of paper, about 10-12cm long.
Wrap the strip of paper tightly around your desired finger.
Using a pen or pencil, mark the point where the paper overlaps itself.
Lay the strip of paper on a flat surface and use a ruler to measure the distance from the end of the strip to the marking you made, in millimetres. This will give you a measurement of the circumference of your finger.
Using the chart, convert your measurement into a standard US ring size.
Alternatively you can visit any jeweler and ask that they measure your fingers in US sizing.
GOOD TO KNOW.
Thumb
Rings that are less chunky and sit more flush to the thumb are best. The knuckle is the widest part, so bear this in mind when measuring. Once you've got the ring over the knuckle it'll be secure.
Index Fingers
If you look at your hand, you will see and feel that the index finger tends to have a more flesh on the base of it. This means that any ring you order will fit rather snug. We often suggest increasing your ring size by +1 size which will allow you to bend your finger.
Middle and Ring Fingers
Watch out for the knuckle on the fingers, especially if the finger is narrow at the base. When choosing rings for these fingers, remember that if it comfortably slips over the knuckle, it will be far too big for the base and will more than likely swing around the finger.
Pinky Fingers
These fingers need extra attention because people tend to lose their rings off of these fingers all the time – especially when hands are cold or wet, or going in and out of pockets. The rule is to wear it as tight as comfortably possible and still be able to bend your finger – if it's too tight, it's better to loosen it than lose it.
TIPS FOR BEST RESULTS:
Allow enough room to accommodate your knuckle.
Bear in mind, different fingers on the same and the opposite hand may have different sizes. Therefore, measure the specific finger on which you are planning to wear the ring.
Don`t worry if it`s a bit loose/tight, silver is easy to resize and can be done by any silversmith.
Still unsure? send us a mail at info@rebelsupreme.com or a message from the chat function on the left bottom corner and we`ll try to assist you.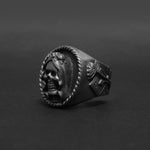 Regular price
$0.00
Sale price
$185.00
925 Sterling Silver (Free Shipping) / 5
Feels sturdy
Just got this ring and it's really cool. The design is something you don't see every day. Feels sturdy and has been comfortable to wear so far. Might pick up another one soon.
This ring's got that outlaw shine, like it's straight from Bonnie's own stash. The silver's got this cool, old timey pattern that's all intricate and stuff. And there's a gem in the middle that seriously sparkles. Feels like you're wearing a piece of history, but with a kick of rebel to it.
Great
Not often do I write reviews, but this ring pleasantly surprised me. It's much better than I thought it would be. Quality is top notch and it's really nice. The design is unique and bold. Thinking about buying another one or two. It's comfortable and has a good heft to it.
The ring offers both quality and comfort, more than what the picture suggests. It's bold and has an unusual design. The quality is exceptional, very solid and heavy. Comfortable for daily wear, with a smooth inside, and the band's strength, keeping its shape, is a plus.
Great work by this brand. The ring's design is perfect, craftsmanship is high quality. Feels strong and weighty. Excited about future designs.
Choosing a selection results in a full page refresh.